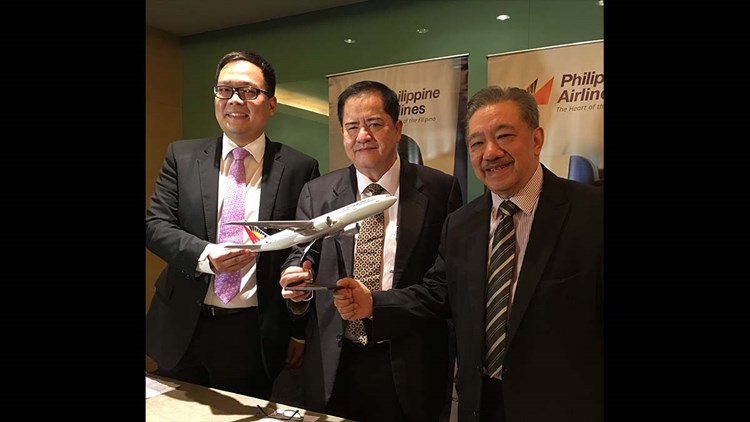 All smiles at launch of Kuala Lumpur-Manila service (left to right) Philippine Airlnes' Ryan T. Uy and David Lim, Pacific World Travel's Dato' Seri Tunku Iskandar Tunku Abdullah Photo Credit: Corinne Wan
Philippine Airlines (PAL) will return to Kuala Lumpur with non-stop daily flights from Manila after a hiatus of three years on June 8.
This time, however, the airline will not only sell Manila. Instead it will link the Malaysian capital to the 44 international destinations that the Philippines national carrier flies to.
Speaking at the press conference in Kuala Lumpur to announce the resumption of the service, David Lim, senior vice president, commercial group, PAL, said, "Through PAL flights and code-share partners, we can carry passenger traffic from Kuala Lumpur to China, Japan, South Pacific and North America and thus enhance our ASEAN network."
He added the re-opening of the route comes at an appropriate time as Asean members are gearing toward economic integration through increased trade, investments and employment opportunities.
"The resumption of the daily service will help boost tourism, as well as foster economic and cultural ties between the Philippines and Malaysia," he added.
The revived service is also part of the airline's route expansion fleet modernisation programme, with eight more routes to be added this year including Jeddah, Riyadh and Abu Dhabi.
Within Malaysia, Lim said, "There are plans to connect Sandakan and Kota Kinabalu in Sabah via Southern Philippines with either turbo prop or jet aircraft."
In an interview with Travel Weekly Asia on the side of the press conference, PAL's Ryan T. Uy, vice president, sales, explained that PAL's axing of the Kuala Lumpur-Manila route in 2013 was not because the flights were not economically viable.
"2013 was a challenging year for us, having to cope with high fuel prices and the rise of low cost carriers. Then we were flying the route with two different brands – PAL with four weekly flights and Air Philippines (PAL's fully owned subsidiary) three times weekly, and this was sending out mixed signals. With all these factors we decided to withdraw from the market."
Uy stressed that the airline has learnt from that experience and is re-entering the market "with more confidence, more readiness to meet competition, and stronger".
He disagreed with the observation that PAL has lost ground in Malaysia to Malaysia Airlines and, in particular, to AirAsia during its three-year absence, despite both competitor carriers enjoying healthy passenger load factor on the Kuala Lumpur-Manila route.
"We're well represented in Malaysia by our GSA, Pacific World Travel, which has been selling the airline offline and keeping the brand strong."
Uy revealed initial bookings for the resumed flight are encouraging, and he expects the passenger load factor to be around 80 to 85 per cent for the first year of operation on the route.
As for competition from other airlines, Uy believes each airline has its own market segment.
"Many still prefer to fly with a full service carrier than with an LCC."
PAL has a code-share agreement with Malaysia Airlines Bhd, which Uy describes as "a good partner" and will cooperate with it to further grow the market.
"We're looking at the corporate, leisure as well as students going to the US, specifically to Los Angeles and San Francisco, with only a two-hour transit in Manila."
Dato' Seri Tunku Iskandar Tunku Abdullah, group president of Pacific World Travel, said his company is working with outbound travel agents to promote the new service.
"Previously the connecting times to other global destinations via Manila were not so convenient. The new timing is much better and we can promote North America specifically. Tourism Malaysia is also excited with the opportunity for North American tourists to come to Malaysia via Manila."
Uy added that PAL is also working with the Philippines Department of Tourism, travel management companies, travel agents as well as his overseas teams to promote Malaysia.
To celebrate the launch, PAL is offering a special introductory all-in-fare from RM398 (US$89) on the Kuala Lumpur-Manila route. Booking period is until March 19 for travel between June 8 to December 15, 2017.
On the service from Kuala Lumpur to the US (San Francisco, Los Angeles, Honolulu) the all-in economy round-trip fare is from RM2,202 (US$495).
The Kuala Lumpur-Manila route will operate with the 199-seater Airbus A321 aircraft. All meals served onboard are halal-certified.
http://www.travelweekly-asia.com/Travel-News/Airline-News/PAL-returns-to-Kuala-Lumpur-after-three-year-hiatus?cid=eltrTWADaily